You may think that the title is intentionally inflammatory, but I think it's getting to be a valid question, at least in the UK, and I'll try to explain it with a bit of humour.
AliExpress is a Chinese-operated online marketplace, which basically acts as a giant online mall with… hundreds, I'd say… of "small stores", factory outlets, and so on. To me, it reminds me going to Xingguang Photographic Equipment City in Shanghai — which is a number of connected buildings crammed full of small-and-medium shops that sell… well about everything you can think of that has to do with photography and a whole lot that has nothing to do with it. The stuff you can find varied so widely, but in between "gray market" lenses and likely fake equipment, you can find very good deals on Chinese equipment — and I don't mean just stuff that is "made in China", but designed and fully manufactured by Chinese companies. I bought a carbon fiber tripod for my camera there, and it's probably one of my favourite pieces of equipment… and I paid half of its listed price in Europe, since I didn't go through customs and distributors to get it.
For those who have not been to Shanghai, AliExpress might be known better for Foone's threads (warning: parts not safe for work and not recommended to minors). Or the random YouTuber reference to them. They are not particularly well looked at, particularly in the United States, because the shipping between China and the US seem to consistently take months. In the UK, this is significantly different: while there's been stuff that has not arrived within the expected 60 days, even during the huge Covid-19 lockdown, most of the orders I placed arrived within a month. I know that Ireland approximates closer to the US than to the UK, and in general I have been not-quite-relying on AliExpress as a way to get stuff on the cheap if I have no urgency for it to show up. This had been much easier when I didn't start planning for not living in the same apartment within a few months.
There's also another important thing to note when talking about AliExpress: unlike most of the store brands we're used to in Europe and in the United States, they act more like a "stores-only" eBay, in that they don't actually involve themselves in the quality of the products they sell. This makes the "buyers beware" saying being even more important than usual to keep in mind. On the other hand, if you know what you're buying and the limitations of possibly non-existent quality assurance, it's a nice way to gather a bunch of, say, electronics components, acrylic lamps, and it seems for some, even glucometers.
Now, I remember Amazon when it was known for being a place to find the good stuff — recommendations based on what you bought (or evaluated) before, a good review system you could count on, and inventory limited to the stuff that is actually useful. But that doesn't appear to be the case anymore. The quality of products you get from Amazon varies widely, particularly because they are making it increasingly difficult to opt-out of Marketplace, which is pretty much the same concept as AliExpress, except for the fact that Amazon usually takes over the logistics again. And I'll get to the reviews in a moment.
You can see above a partial results for me searching "hot air solder station" on Amazon. This is not a random search per se, but rather tha main trigger for me being ready to complain about Amazon (most other searches follow the same pattern, by the way). A few months ago I decided to order a hot air solder station for home, to make it easy to solder some of the boards I have been working on. I ended up getting a Yihua-branded station for £90, which sounded like it had decent reviews from YouTube electronics folks… except that when I tried using it to desolder the DisplayPort connector I damaged from my old U2711, the plastic around the hot gun melted, releasing toxic fumes in my office… which made me discover the Dyson fan has a purple level of air quality, which approximates to "run away".
I sent the station back to Amazon pointing out how the CE mark on the box looked very suspicious in light of what happened, and they did refund me no-questions-asked, but… I couldn't leave a review about it. Despite me sending it back after two weeks, the item I bought was already removed from the store by that point. I didn't get any notification about it being removed for safety concerns, so I assume that it was the seller deciding to run with the money instead. I replaced the station with a £25 one from AliExpress, which… turned out to perform significantly better, given that it did not burn down after nearly a month using it.
Now, let's look at the picture I added above. The first four results are "Sponsored" — that means they are ads. Yes, you do get ads on Amazon when you search for something. Of the eight results, no two are reporting the same brand… but if you know what to look for you can see the Yihua logo on two of the sponsored entries and one of the "organic" ones, although none of them are reported as Yihua (except for the one that says MMOBIEL). How does this even fly? Well, it seems like the "brand" you see is the one that is putting together the "kit" of the soldering station with a bunch of vaguely related accessories.
But can we find more Yihua from these eight? Of course we can!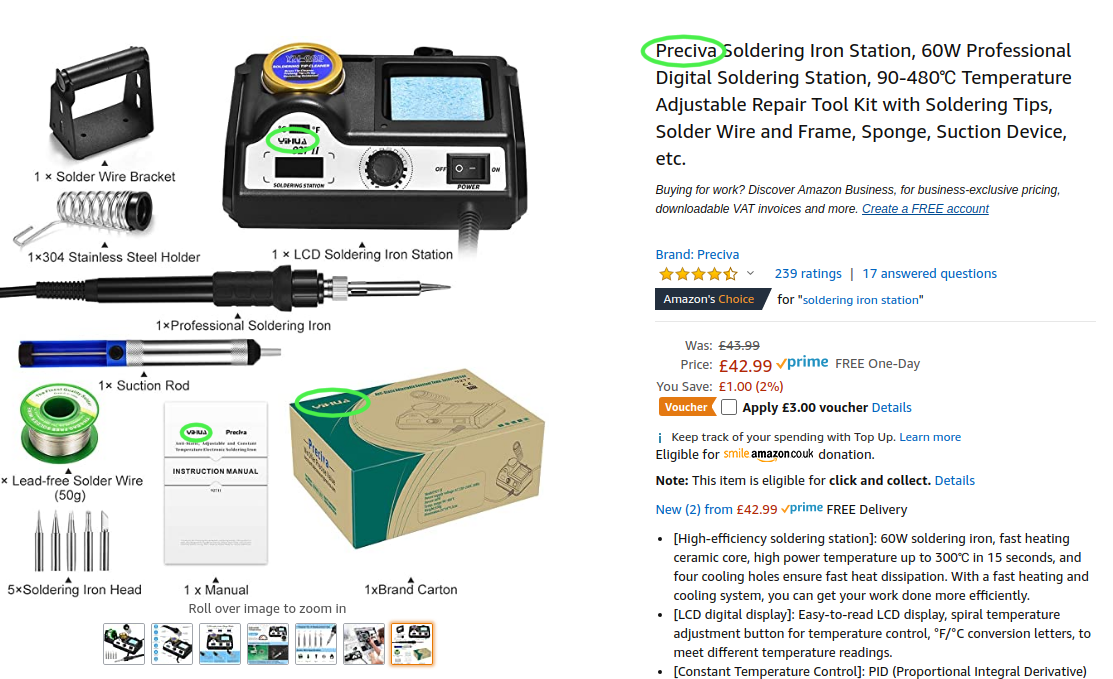 Preciva being a "white label" brand, akin to Silverline, is literally photoshopping away the Yihua brand in their main listing image, but keeps it in the "what's in the kit" image later on, including for the "Brand carton" (whatever that is).
The end result is that sifting through Amazon listing is getting tedious — if you're lucky, you get a British-based white label company sourcing their stuff somewhere in China and selling it back to you. If you're not lucky, you get someone who has bought a pallet of AliExpress-level goods, possibly changed the box (in many cases not even that), and then sold it back to you at a mark-up. The "baseline luck" is finding someone who's not even trying to hide that they are selling already-imported AliExpress goods, which makes Amazon pretty much just a rapid-delivery option of AliExpress-quality items.
And even for stuff that you may think you're better off getting at Amazon, there's some risk. Last year I bought a new camera (a Sony A7 first generation), and I ordered an USB-based charger with two batteries branded RAVpower — it's a brand that is at least known for their mobile powerbanks, so I thought I would be safe. A couple of months later I definitely noted that one of the two batteries didn't hold anywhere near the charge it should have, despite the charger saying it charged it in full. A couple of months ago I ordered two Palo-branded chargers for both my cameras, the A7 and the Canon 80D, because they had a decent price and supported both microUSB and USB-C — turns out that these will show you the actual charge detected on the battery, and indeed showed one of the two RAVpower-branded batteries as only holding 50% capacity constantly, which suggests one of the two cells inside is dead.
So what about the reviews? Well, there's more than a few problems with reviews. As I noted earlier, the hot solder station SKU I ordered before was already removed from Amazon by the time I figured out how terrible it was, so I had no option to leave a review. And even if you were to leave a review, the appeal-based moderation will unlikely let negative, realistic review live. April King reported an example recently, and I had a similar experience with a review for a phone battery being removed because I said they faked the capacity. So unless you want to play the game finding the right set of banned words, you're pretty much stuck — to continue with the Chinese connection, trying to leave a negative review on Amazon starts feeling like being part of Ma Boyong's The City of Silence.
So can you just find the right stuff by looking solely at the positive reviews? Absolutely not!
It's not just my opinion, by the way. The UK consumer association Which? reported this, FT Alphaville (free after registration) reported on it, and the FT proper (paywalled) reported on it last week as well! It's not a secret that effectively every other marketplace order you place end up with you receiving a message from the seller asking you to contact them instead of leaving bad reviews, or suggesting you leave a good review for activating a 1-year warranty (which in EU and UK you have by law), or suggesting you can get a voucher if you leave a good review. Some are more blatant than others — another common "trick" I've seen them use is to send you an "invoice" (which contains none of the legally required information for being an invoice at all, nevermind the fact that you haven't paid them, but paid Amazon).
But there is another issue. A few months after starting to order stuff from AliExpress we started receiving packages from Amazon that we didn't order. At first it was a pair of "gaming headphones", then it was some clothes hangers (that were dirty in their box so went straight into trash) and a flashlight, and this keeps happening to this date. It's called brushing.
I have contacted Amazon, twice, about these packages, and provided them with the order number. But instead of speaking reasoning, the poor folks at the Amazon customer care find themselves acting as mechanical turks themselves, and said they'll contact the person who ordered them, since they can't discuss it with me. Despite the fact that they seem to have my PII and GDPR should require them to delete my information off their system.
The worst part is that sometimes the packages come together with the stuff I actually ordered, possibly because they don't order it with Prime delivery, so Amazon bundles them to the next delivery in the area. I can tell which one is my actual order versus the one that is coming in from a scammer: the format on the address is different and it matches the one that I provided AliExpress.
Again, let me repeat that nobody at Amazon cares, despite this brushing scam being well documented for over a year at least. Even the delivery person who I showed the different addresses to told me «Well, I can bring it back, but just so you know, someone will just take it anyway, as they don't want it back.» Which basically means Amazon doesn't care about the fake reviews left by these scammy sellers.
So why am I even using Amazon at all? Well, it's not an obvious answer. Sometimes it's a matter of price: when Argos sells the same brand-name goods for a good 10% on top, plus shipping, it's hard to justify avoiding Amazon for that. And with most supermarkets still not having recovered from the limitations of lockdown, a number of household products are also easier to order from Amazon than, say, Boots. And Amazon has usually better customer focus despite all of this — if somehow they send you only two items of a bundle of three, they don't take two weeks to admit that they are out of stock, and you don't have to suggest them to give you a partial refund at that point, which is what happened to me with Ryman.
Of course that is not fair — Amazon can afford the no-question-asked returns because they are a pile of cash, and they don't need to be afraid of scammy customers. They can afford the low margins, because Marketplace appears to be making up for it by not making it their problem. Any newcomer to the scene will have issues fighting such a behemot, which is what makes it unfair. But I already complained about Europe as a market, and why I don't expect an European alternative with fairer practices to ever become interesting.