Last year I wrote an analysis of fishy ads on Facebook, among other things because I had no way to escalate the level of scam that I was getting, and I thought that it would be good for others to be able to follow the breadcrumbs to recognize that type of scams. Since this year I switched company, I find myself being unable to escalate the massive amount of scams and spam I see around me in Google Maps… so let me try to show you what I mean.
For the past two and a half years I've been living in West London — I'm not going to show exactly where, but it's in Brentford. And when I moved into the apartment, I noticed that the various pictures I was taking at home (of food, the back of the router, and so on) kept popping up on my notifications with a suggestion by Google Maps to add them to a review of the building my apartment is in. The reason for that turned out to be that the building was marked as Lodging, which had it acting as a commercial accommodation, rather than a residential building. Oops, but why?
Well, turns out that it's a smaller version of what's going on in London and the rest of the world, and it became apparent a few months later, and very clear now. On our floor, there's not one, but two "holiday rental" units — despite that being apparently against the leasehold agreement between the building and the owners. And indeed, both that company and another few appears to have tried taking over the Google Maps entities for the apartment buildings in our complex, and in a few of the nearby ones, particularly adding phone numbers for inquiries about the buildings — buildings that have no central phone number.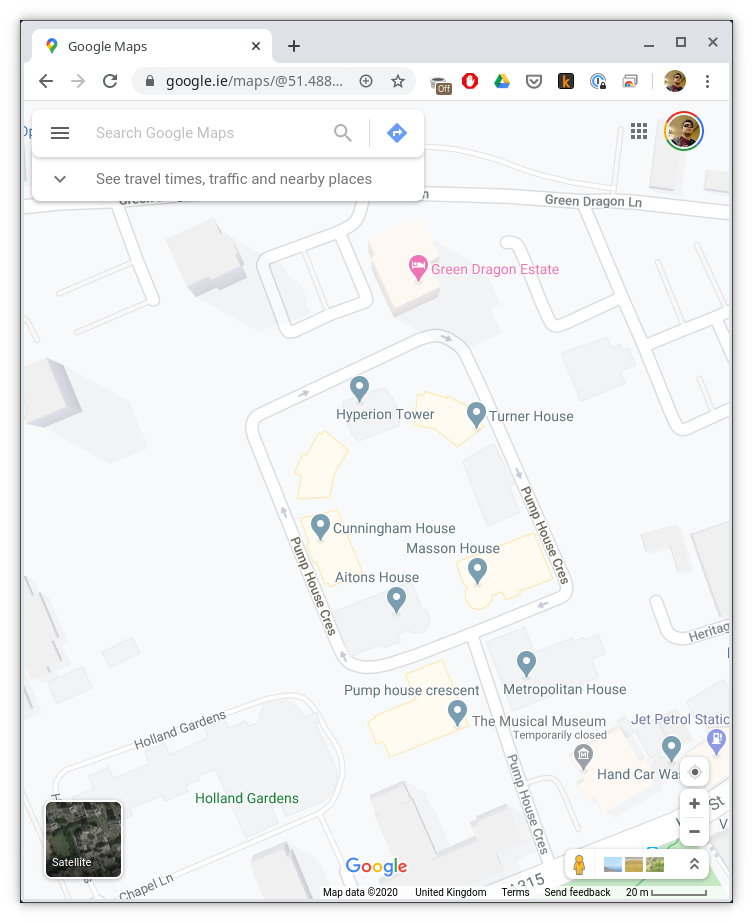 Let me try to show you how deep that rabbit hole is — on your right you can see "Pump House Crescent", which is a road going around some tall apartment buildings not far from where we live. You can already notice that there's a Green Dragon Estate that has a pink pin instead of the gray one — that's because it's currently marked up as a Lodge and it has reviews — probably for the same reason why I was prompted to add pictures from my own apartment. As far as I can tell, it's actually part of the various blocks on the crescent, and instead holds residential apartments. I've sent an edit request.
When you zoom in a bit more, you can see interesting things. Turner House, Hyperion Tower, Cunningham House, Masson House, and Aitons House are all marked as either Apartment Building or Flat Complex, both of which are residential, and that's correct. But then there's Bridgeman House that is marked as Lodging — and that is likely wrong (edit sent and published as I'm typing, turns out Google Maps reviewers are very prompt to fix these issues when you report them).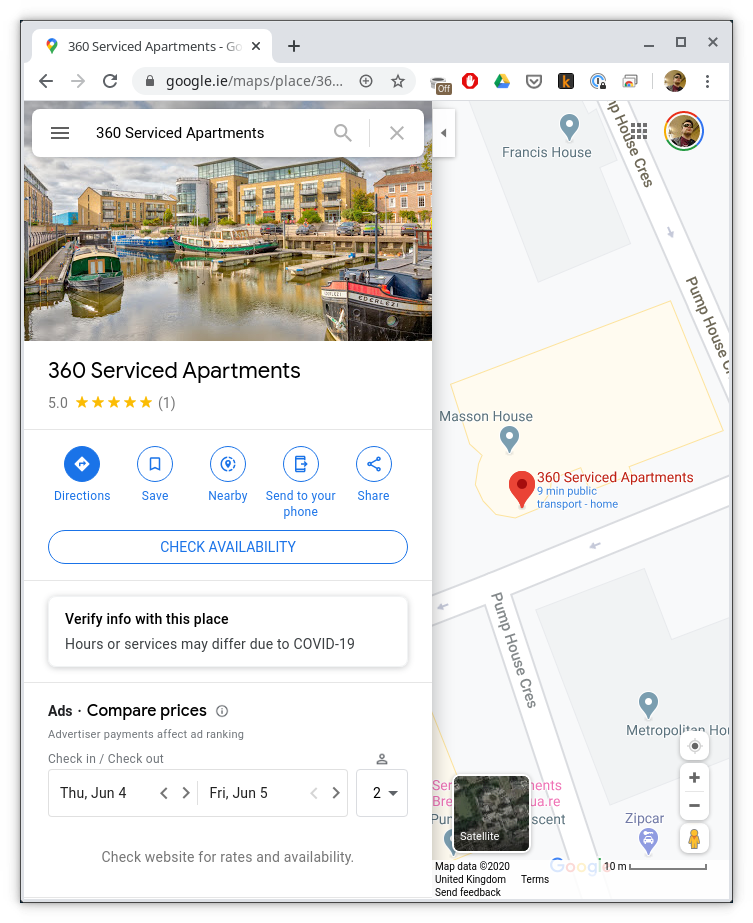 But not far from it is the possible scam you can see on the left. 360 Serviced Apartments is even showing availability for a residential building — which they are not in. They provide their address as Masson House for Google Maps to put them there, but their actual company address according to their website is in London W5 — and the picture that they posted is quite a way away on the river, rather than where the pin is present. Can we call it scam? I think I will.
It doesn't end here — there's another similar scam across the road for another serviced apartment that even managed to put their website's domain in the name of the point of interest! In this case there's no picture of the outside, so it is possible that the inside pictures are actually appropriate — but again we're talking about a residential building, in a residential area, that, as far as I can tell, is not cleared for subletting. Does it end here? Of course it does not.
In the gallery above you can see one of the most blatant scams that I could find on Maps in this area. As you can see from the first picture, down a lane from Kew Bridge station there's an Apple Apartments Kew Bridge. Once you click on it, you can see that is reported as a 4-star hotel. With a picture of a station — except that the station is definitely not the National Rail Kew Bridge station, but rather the London Underground Hammersmith Station, which as any resident of West London would be able to tell you, is nowhere near Kew Bridge!
And as you scroll the gallery, you can see more pictures uploaded as if they were taken from the hotel, but they are clearly taken at different places. There's pictures of Kew Bridge itself, as if you were able to see it from the place. And then you can see from the various reviews that this is not a 4-star hotel at all. Indeed, the star rating of UK hotels is defined by the AA, and for 4-star hotels they expect:
4 stars: Professional, uniformed staff respond to your needs or requests. Well-appointed public areas. The restaurant or dining room is open to residents and non-residents. Lunch is available in a designated eating area.
Let me remind you that it's definitely a holiday let apartment that those "Apple Apartments" are.
I'm sure that all of these examples are not limited to Google Maps, as I remember being a "SuperUser" for FourSquare years ago, and having to review similar spam/scam situations, which is why I've been doing this on and off with Google Maps, both while working at Google and now. But at the same time, I don't think it's fair we, the public, end up having to clean up after this level of spam and abuse.
Anyway, if you live in an area that has lots of residential buildings, do take a look if there's a lot of them marked Lodging, and that have phone numbers (particularly mobile numbers), and consider giving them a clear up if you can. It's not just about removing scams for tourists, it's also making sure that a residential area is not peppered with commercial corridors created by rule-bending (or rule-breaking) holiday let listings.