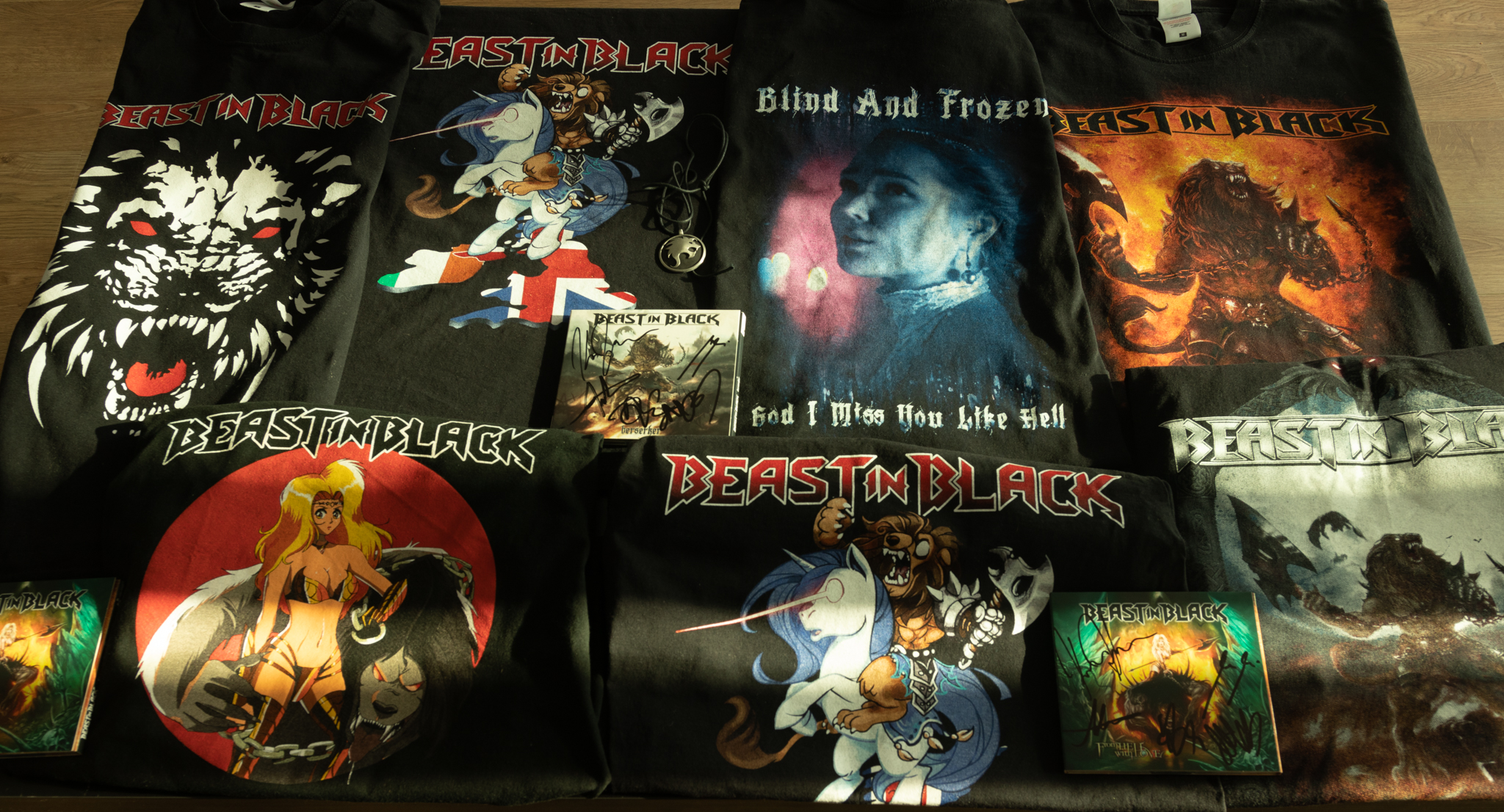 I have overlooked music in this past series of sARTSurdays, and it's time to fix this mistake, with a metal band that is close to my heart — Beast in Black. And the reason they are close to my heart is that it was thanks to them that I met my wife — she was coming to the Rhapsody Reunion concert to see them being support, while I was there for the main act.
As you probably can guess by, uh, everything up to now (title, Rhapsody's involvement, the style of the T-Shirts, …), Beast in Black are a metal band, and so if you don't like that kind of music it's unlikely you'll be interested, but if you are, stay with me. It's not just metal, it's metal with 80s throwbacks, pretty much what our generation would find nostalgic if we ever went into that kind of music. Which is why my wife loved them from early on, and I found myself appreciating them with gusto.
I think that for me personally, part of the pleasure is that they are not bass-heavy music — my ears tends to prefer higher pitch sounds (funny how ears work), which is why I originally started listening to Dragonforce. So between Yannis's voice and Anton's guitar work, my wife didn't have much work to convince me.
Speaking of Yannis, make sure you check out his YouTube Channel — in addition to singing in Beast in Black, he's releasing vocal covers of… lots. Nightwish? Check. Disney's Frozen? Check. Zayn (uh?)? Check. I shouldn't be surprised that he seems to have quite the fan club, as proven by the folks we chatted with in the queue to see them in Amsterdam.
Okay so I should probably point out that we can come out a bit… strong in our support. After seeing them in London the night we met, my wife went to Japan explicitly to see them at a festival there, and together we saw them again in London (twice), and then went to Amsterdam and Budapest for two of their concerts — taking the time to make a proper holiday out of them. And thinking back, I'm fairly sure I gained a few kilos in Budapest, the food was so good.
You may have noticed from the t-shirt picture the Beast riding a very surprised unicorn. For once this is not a reference to Unstable Unicorns, but rather to the band joining the Scottish band Gloryhammer in their British Isles tour — Gloryhammer being known for the Unicorn Invasion of Dundee, which does make me wonder whether there's something up in Scotland when it comes to supernatural invasions.
So, pick your poison between Spotify, Google Play Music YouTube Music, Apple Music, Amazon Music, CDs, vinyl, cassette tape — and have a listen. Pump up the volume (if you can, your mileage may vary depending on whether your neighbours would like the music), and enjoy some "expensive cheese", as Derek once said.