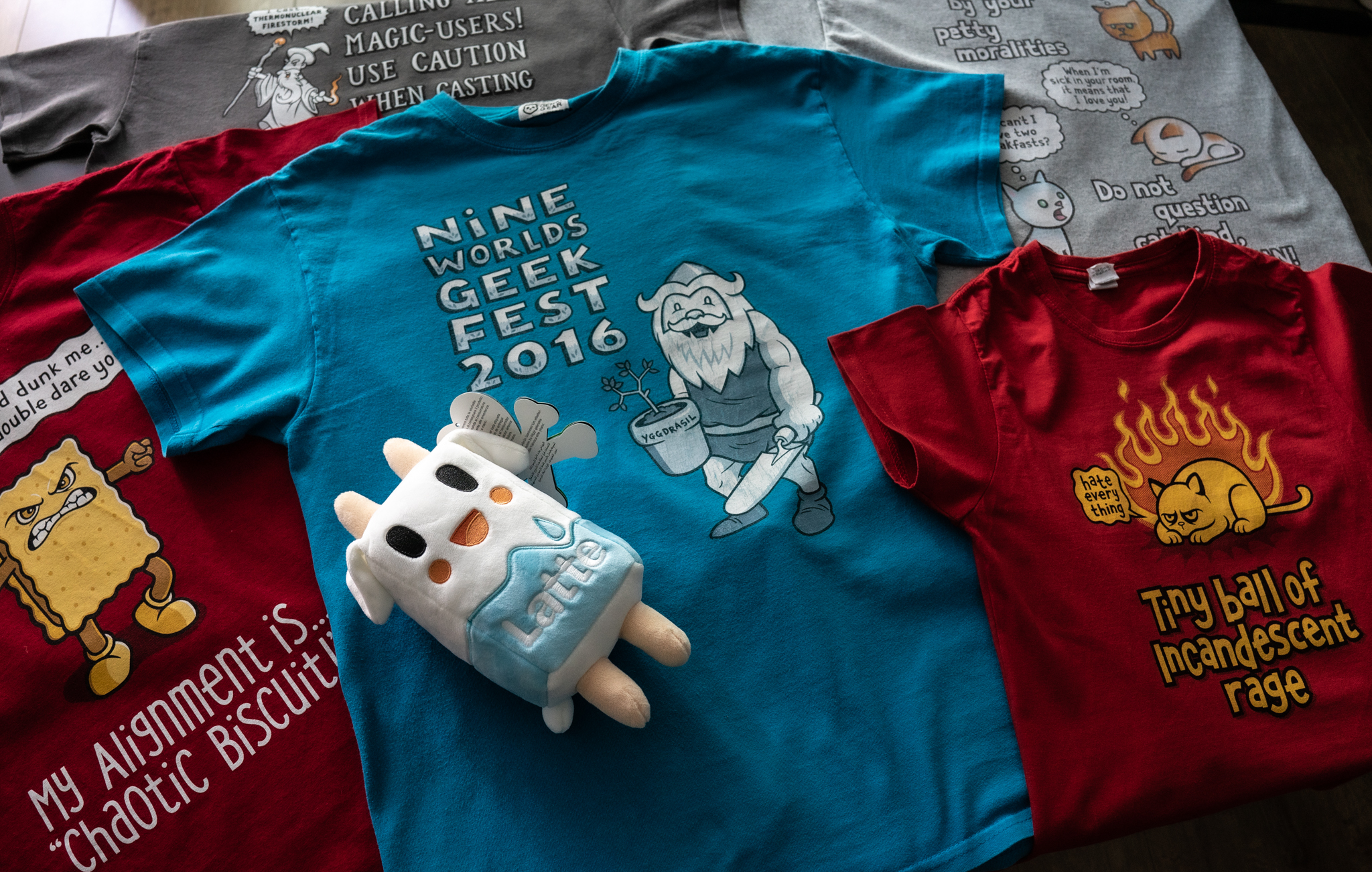 This week's sARTSurday is not going to be surprising for any convention goer in the UK, given that Genki Gear is a staple at conventions around here (and in Ireland, too!) Which makes it more sad not having seen them around in so long now.
Known for their quirky, original t-shirts, some not really safe for work (even when honest), they recently started adding plushies licensed from Tokidoki and BT21 (which you may know for stickers on various messengers — or, if you visited Los Angeles in the past couple of years, for the huge cutesy store, downtown.)
Their webshop has content for pretty much any taste. D&D? Check. Cat people? Check. Terrible puns? Check. Not safe for work jokes? Check. Big fluffy ears? Check.
Also, the folks running Genki Gear are good folks. Not only they have some of the most inclusive range of shirts and gadgets, but during this situation they have been boosting other traders on their Facebook page, which was a great thing to see.
On the photo you can also see the one shirt I have that is a convention exclusive — for the defunct Nine Worlds Geekfest in London — which again shows the care they put on making products available even for smaller events (when compared to other events happening in London, that is).
I also want to spend a word or two on the quality of those shirts: they are soft, and warm, and nicely printed. You can possibly notice that the Nine Worlds shirt is a bit worn off — but that's because I have used it many times (it's one of my favourite colours), and I used to just put everything in the tumble drier with not much care. And it still looks better than some other shirts in my closet. So don't worry about that. If you're not as bad as me to care for clothes, they'll last forever!