I have previously complained loudly about "geek supremacists" and the overall elitist stance I have seen in Free Software, Open Source, and general tech circles. This shows up not just in a huge amount of "groupthink" that Free Software is always better, as well as in jokes that may sound funny at first, but are actually trying to exclude people (e.g. the whole "Unix chooses its friends" line).
There's a similar attitude that I see around environmentalism today, and it makes me uneasy, particularly when it comes to "fight for the planet" as some people would put it. It's not just me, I've seen plenty of acquaintances on Twitter, Facebook, and elsewhere reporting similar concerns. One obvious case is the lack of thought given to inclusion and accessibility: whether it is a thorough attack of pre-peeled oranges with no consideration to those who are not able to hold a knife, or waste-shaming with the infamous waste jars (as an acquaintance reported, and I can confirm the same is true for me, would fill up in a fraction of the expected time just from medicine blisters).
Now the problem is that, while I have expressed my opinions about Free Software and activists a number of times in the past, I have no experience or expert opinion to write a good critique of environmentalist groups, which means I can only express my discomfort and leave it to someone else. Although I wrote about this in the past.
What I can provide some critique of, though, is an aspect that I recently noticed in my daily life, and for which I can report directly, at least for a little bit. And it goes back to the zero-waste topic I mentioned in passing above. I already said that the waste produced just by the daily pills I take (plus the insulin and my FreeStyle Libre sensors) goes beyond what some of the more active environmentalists consider appropriate. Medicine blisters, insulin pens, and the sensors' applicators are all non-recyclable waste. This means that most of the encouragement to limit waste is unreachable for most people on medications.
The next thing I'm going to say is that waste reduction is expensive, and not inclusive of most people who don't have a lot of spare disposable cash.
Want a quick example? Take hand wash refills. Most of the people I know use liquid soap, and they buy a new bottle, with a new pump, each time it finishes. Despite ceramic soap bottle being sold in most homeware stores, I don't remember the last time I saw anyone I know using one. And even when my family used those for a little while, they almost always used a normal soap bottle with the pump. That's clearly wasteful, so it's not surprising that, particularly nowadays, there's a lot of manufacturers providing refills — pouches, usually made with thinner, softer plastic, with a larger amount of soap, that you can use to either refill the original bottles, or to use with one of those "posh" ceramic bottles. Some of the copy on the those pouches explicitly state «These refill pouches use 75% less plastic per ml of product than a [brand] liquid handwash pump (300 ml), to help respect the environment.»
The problem with these refills, at least here in London, is that they are hard to come by, and only a few, expensive brands appear to provide them. For instance you can get refills for L'Occitane hand wash, but despite liking some of their products, at home we are not fond of their hand wash, particularly not at £36 a litre (okay, £32.4 with the recycling discount). Instead we ended up settling on Dove's hand wash, which you can buy in most stores for £1 for the 250ml bottle (£4/litre). Dove does make refills and sell them, and at least in Germany, Amazon sells them for a lower per-litre price than the bottle. But those refills are not sold in the UK, and if you wanted to order them from overseas they would be more expensive (and definitely not particularly environmentally friendly).
If the refills are really making such a difference as the manufacturers insist they do, they should be made significantly more affordable. Indeed, in my opinion you shouldn't be able to get the filled bottles alone at all, and they should rather be sold bundled with the refills themselves, at a higher per-liter price.
But price is clearly not the only problem — handwash is something that is subjected to personal taste a lot since our hands are with us all day long. People prefer no fragrance, or different fragrances. The fact that I can find the whopping total of two handwash refills in my usual local stores, that don't cost more than the filled bottle is not particularly encouraging.
Soap is not the only the thing for which the "environmentally conscious" option is far from affordable. Recently, we stumbled across a store in Chiswick that sells spices, ingredients and household items plastic free, mostly without containers (bring your own, or buy it from them), and we decided to try it, easily since I've been saving up the glass containers from Nutella and the jams, and we had two clean ones at home for this.
This needs a bit more context: both me and my wife love spicy food in general, and in particular love mixing up a lot of different spices when making sauces or marinades, which means we have a fairly well stocked spice cupboard. And since we consume a lot of them, we have been restocking them with bags of spices rather than with new bottles (which is why we started cleaning and setting aside the glass jars), so the idea of finding a place where you can fill your own jar was fairly appealing to me. And while we did expect a bit of a price premium given the location (we were in Chiswick after all), it was worth a try.
Another caveat on all of this: the quality, choice and taste of ingredients are not obvious. They are, by definition, up to personal taste. Which means that doing a direct price-by-price comparison is not always possible. But at the same time, we do tend to like the quality of spices we find, so I think we've been fair when we boggled at the prices, and in particular at the prices fluctuation between different ingredients. So I ended up making a quick comparison table, based off the prices on their website, and the websites of Morrisons and Waitrose (because, let's be honest, that's probably the closest price comparison you want to make, as both options are clearly middle-to-upper class).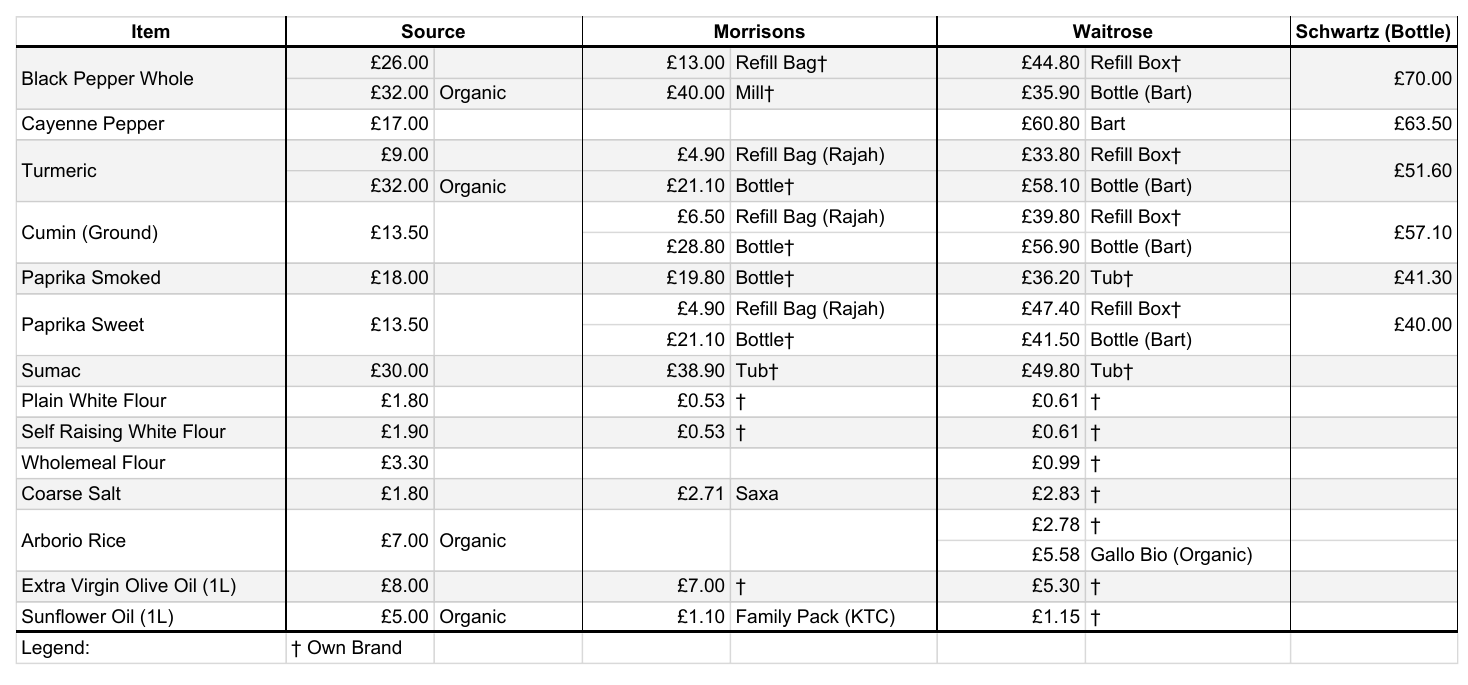 If you look at the prices, you can see that, compared with the bottled spices, they are actually fairly competitive! I mean cumin costs over four times if you buy it in bottle at Waitrose, so getting it cheaper is definitely a steal… until you notice that Morrisons stocks a brand (Rajah) that is half the price. Indeed, Rajah appears to sell spices in big bags (100g or 400g), and at a significantly lower price than most of the other options. In personal taste, we love them.
A few exceptions do come to mind: sumac is not easy to find, and it's actually cheaper at Source. Cayenne pepper is (unsurprisingly) cheaper than Waitrose, and not stocked at Morrisons at all, so we'll probably pop by again to fill in a large jar of it. Coarse salt is cheaper, and even cheaper than the one I bought on Amazon, but I bought 3Kg two years ago and we still have one unopened bag.
The one part of the pictures that the prices don't tell, of course, is the quality and the taste. I'll be very honest and say that I personally dislike the Waitrose extra virgin olive oil I chose the price of (although it's a decent oil); the Morrisons one is not the cheapest, but that one tasted nasty when I tried it, so I went for the one we actually usually buy. Since we ran out of oil at home, and we needed to buy some anyway, we are now using Source's and, well, I do like it actually better than Morrisons, so we'll probably stick to buying it, despite it being more expensive — it's still within the realm of reasonable prices for good extra virgin olive oil. And they sell it in a refillable bottle, so next time we'll use that one again.
Another thing that is very clear from the prices is just how much the "organic" label appears to weigh in on the cost of food. I don't think it's reasonable to pay four times the price for sunflower oil — and while it is true that I'm comparing the prices of a huge family bottle with that of a fill-your-own-bottle shop, which means you can get less of it at a time, and you pay for that convenience, it's also one of the more easily stored groceries, so I think it's fair enough.
And by the way, if you followed my twitter rant, I have good news. Also in Chiswick there's a Borough Kitchen store, old good brick-and-mortar, and they had a 1L bottle for an acceptable £5.
So where does this whole rant get us? I think that the environment needs for activists to push for affordable efforts. It's not useful if the zero-waste options are only available to the top 5%. I have a feeling that indeed for some of the better, environmentally aware options we'll have to pay more. But that should not mean paying £5 for a litre of sunflower oil! We should make sure we can feed the people in the world, if you think that the world is worth saving, and do so in a reasonable way.
Before closing let me just point out the obvious: Source appears to have their heart in the right place with this effort. Having had my own business, I'm sure that the prices reflect the realities of renting a space just off Chiswick High Road, paying for the staff, the required services, the suppliers, and the hidden cost of families with children entering the store and letting their kids nibble on the candies and nuts straight out of the boxes (I've seen at least one while we were inside!), without paying or buying anything else.
What I fear we really need is this type of services to scale to the level of big high street grocery stores. Maybe with trade-in containers in place of bring-your-own for deliveries (which I would argue can be more environmentally-friendly than people having to take a car to go grocery shopping). But that's something I can only hope for.