You may or may not remember that I did post about my (controversial) privacy policy and some of my thoughts on threat models. A related, though should probably be separate, topic is how to handle internet advertisers, and tools like AdBlock, so I thought I would write down my personal preference and how I work.
First of all, I should point out the obvious elephants in the room: not only I work for a company that sells internet ads, but I also use ads on both this blog and Autotools Mythbuster — mostly to try reducing the cost of running these operations, which are mostly a personal whim. On the other hand, the opinions I express in this post are all personal, and are not being influenced by this. They have been forged over time and experience, and some of said experience may have been related to these, though.
Once this is clarified, I should describe my current setup, since that will spark the rest of the content of the post. I (still) use AdBlock Plus extension for Chrome — even with all the possibly shady behaviour that the current owners are behind, I have not found a good replacement; uBlock Origin is not a replacement, as I'll get to later. I've set the extension to behave as an opt-in, rather than opt-out: ads are not blocked anywhere until I ask it to. Chrome for Android does not have AdBlock or similar, so I have nothing really there, on the other hand it's less of an issue there because I usually just look at the same dozen websites most of the time.
To make ads generally less annoying, I signed up for Google Contributor which allows me to declare a target monthly contribution to use to replace Google Ads with whatever set of images (or nothing at all.) I set it to show me cats, including my own.
As I said above, I set my AdBlock to not block ads by default, so when do I decide to turn it on? Well, to start with I run it on my own websites (except when I'm testing them), since otherwise it's a bit of a mess with the Terms of Service of AdSense, so this is easier. Other than that, I usually turn it on for various sites when I land on a page and I find it "scammy." The definition of scammy is of course up to debate, so let me try to explain where I come from.
Also, I need to make this point here, so that if you completely disagree with my idea here, you can probably stop reading (and please don't comment either): I don't believe that advertising and marketing are inherently evil. I know plenty of privacy extremists take an issue with the statement, so if you do feel free to move on and read something else altogether.
Not all internet ads are created equal, I think this is obvious to essentially anybody who has been browsing the Internet for more than a few months. Ads may be more or less intrusive, they may be more or less relevant to your interests and they may or may not always be legal. While no supplier is immune, most of the big names thrive hard to avoid ads that outright lie, or that try to pass off for something else. The results are usually mixed as everybody knows already.
On the other hand, there are suppliers that explicitly go for the scams, and some website operators accept them quite willingly. The reason is usually monetary: these networks pay off much better, as the "advertisers" are happy to pay premium to get their (frequently) malware advertised. To give you a bit of an idea, I suggest you read or watch this presentation from the USENIX Security conference.
This is not all, of course. There are also the self-defined "content discovery networks", that purport to point people at other content they should be interested in, mixing content from the same site with "sponsored links." Even I tried it once before I noticed how useless it ended up being. Nowadays a lot of those kind of links are coming from two networks: Taboola and Outbrain; in my experience, the latter actually provides kind-of relevant content, the former has lots of almost definite scams that I do not appreciate.
To give you an idea, if I'm reading an article about Brexit, I find it perfectly reasonable to get links to articles suggesting cheap vacation to the UK, an ad for Transferwise and an ad for ig.com (which is, as far as I know, a totally legit tradit website I have no affiliation with, but just seem to spend lots of money in advertisement, as I see it on every other website.) If, on the other hand, a different article on the same topic proposes me links such as "This one trick hated by doctors to lose weight" and similar, then I think there is more than a little bit of a problem.
But you can get worse than this! Some months ago I was traveling to London, and an acquaintance of mine shared on Facebook an article he wrote for an Italian newspaper (since he's still living around where I'm from.) Since I was curious about the topic, I looked at it and … well, you can see it by yourself: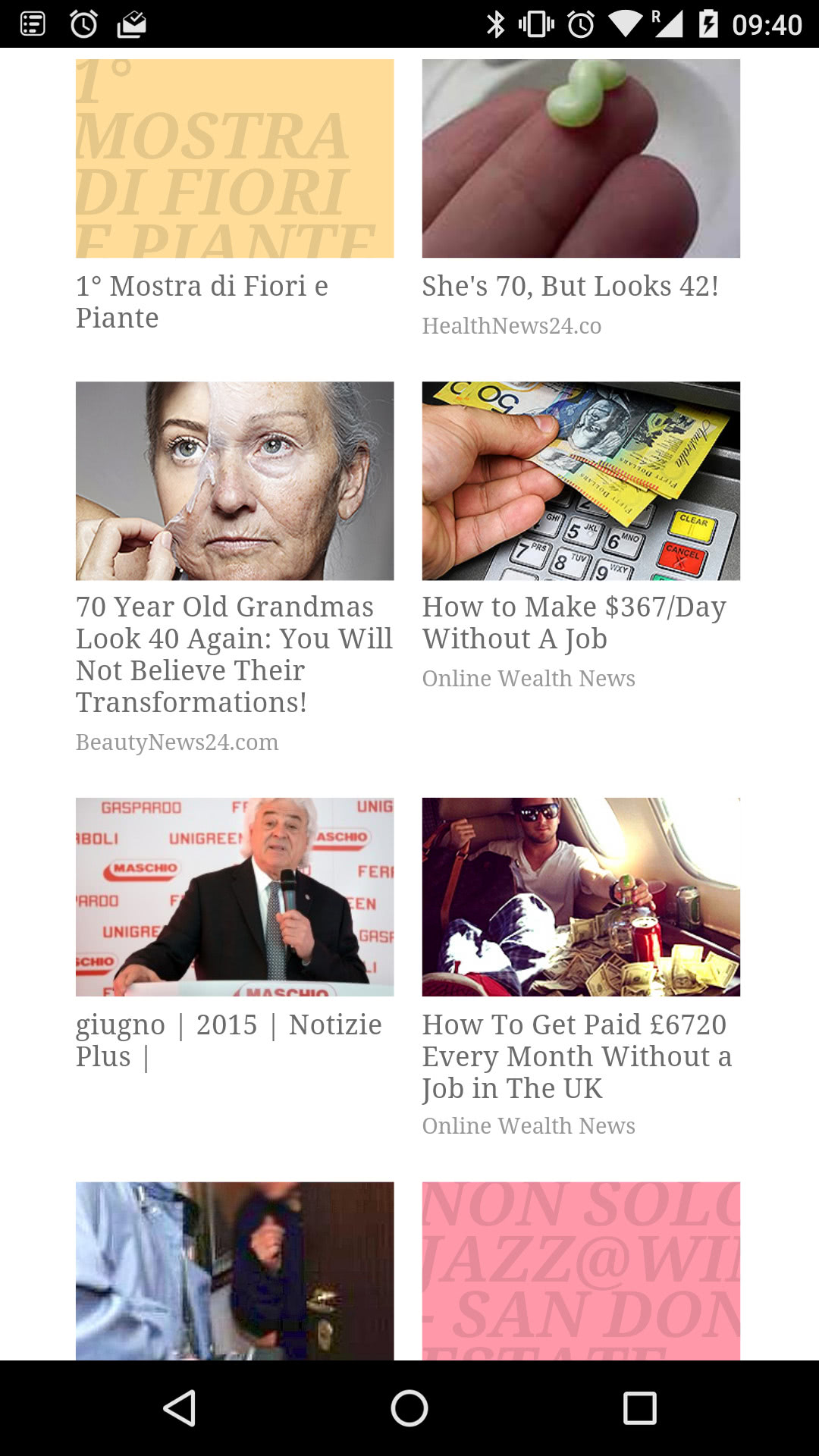 Two things are kind of obvious when looking at it: "Make ¤NNN a day" scams are freaking common not only in comment-spam, and people really seem to believe you can look 30 years younger by buying something. Out of eight "links", only half actually point back to the newspaper, two point to possibly fake cosmetics (from two "different" sites — which are clearly the same), and two points to outright scams that suggest you can make money without doing anything (these reporting the same site name at least.) It's also apparent that those two sets are auto-generated by taking a set of stock images, a set of stock headline templates, and throwing different currency symbols, numbers and country names.
Now you may ask why a newspaper – one for which a friend of mine even writes! – would use such a blatantly scammy ad network. The answer is that they did not realize it was a scammy network until I showed him the screenshot. Indeed, from within Italy their ads are useless, but at least legit; it isn't until you're visiting from the outside that they start providing you with scam. This is, by the way, why sometimes you may find spam that simply links to a blog post of a newspaper or other site in a non-English language: they still want you to "see" these ads, if they are the only thing you understand in the page, that's still okay. If you don't know better, you may still fall for it.
There are more cases, but these are the major ones. So if I see any of these scammy ads, I just go and enable AdBlock for the whole domain. Usually, I also try to stay away from that website altogether, but sometimes it's not as easy. For instance Wikia – yes, headed by the same Jimmy Wales that keeps insisting he doesn't want ads on Wikipedia by putting a 50%-height banner of his face on it from time to time – uses the medium-grade scammy Taboola — it's not quite outright illegal activity, but clearly it's not something I care to see. So there goes AdBlock.
In addition to the actual scammy, I enable AdBlock plus if I see other ads that, whether legit or not, are just an active pain in the arse. For instance, some sites, particularly I noted around hardware reviews, use ad networks that hook on-hover ads to words. So if you're like Randall and me and go on selecting text to remember where you were reading if you're distracted, you may end up playing one of their stupid (sometimes scammy, sometimes not) ads. Bam. Auto-playing video ads with audio gets the AdBlock hammer too. Bam. And so do those sites that just get my CPU to spin though it's not obvious there is any ad playing already. Bam.
So with all this explained, let me go back to uBlock Origin, which seems to be the only alternative to AdBlock Plus that is ever suggested. This extension is clearly written by privacy extremists. I already had a couple of times people replying to my complaints about it on twitter trying to be funny with "well, that's intended" or "I don't see a problem" — that does not make you smart, that makes you completely tone-deaf.
The extension does not only block ads, but it keeps insisting it wants to block all the client-side tracking. As I said before there is still plenty of space for server-side tracking, particularly for malicious purposes; client-side tracking is usually done for marketing purposes, and so I don't really mind it.
It goes beyond that. The rulesets in uBlock Origin are designed to block based on regular expressions; some of these expressions are of significantly wide reach, for instance when I tried it I couldn't even go and check my own AdSense console. Or even access SourceForge! — as much as I really disliked SourceForge's turning to bundling malware last year, marking the whole site off-limits is crazy.
More bothersome for me, was the way the extension decided that any of the tracking-click from Skymiles Shopping were ads and so just decided it was a good thing to block them. For those who don't know Skymiles Shopping, or one of its many other incarnation for hotels, airlines and other loyalty programs, it's essentially a way to bridge the referral system of various online shopping venues with your own interests, pretty much the same as Socialvest used to do. When you click on a given offer from the portal, they ask you for your loyalty identifier (in my case a Delta SkyMiles frequent flyer number), then send you to the shopping site with a personalized tracker. After you order from the site, they get a referral commission, and credit you with something — in the case of Socialvest back in the days, you could donate that to non-profits, or get it added to your Flattr wallet, in the case of Skymiles Shopping, they give you a number of Delta rewards miles.
Am I trading part of my privacy away for some benefit? Yes. I'm okay with that, as I said. And so is, very likely, the majority of people out there. So without providing an option to disable this behaviour, and insisting that it's the correct one, the only way they can read it is that the extension is not for them, and they will fallback to either the (possibly shady) AdBlock Plus, or to no extension whatsoever — and with badvertising being an actual problem, that's not good either.
For you it might be that your privacy is just that valuable, but there are indeed enough people for which these cash-back, custom tailored offers, or generally legit, non-scammy ads are important. It's not far from the toilet paper problem.
Indeed, this kind of tone-deaf response from many privacy and Free Software activists is what turned me significantly away from the movement over the past few months. I plan on writing more of it, but I thought this would be a good place to start.